Who We Are:
LEIGH MONICHON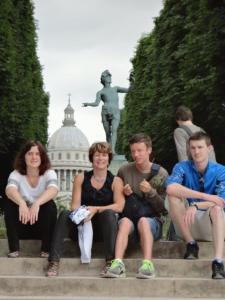 Leigh has more than 20 years professional and personal experience with negotiation and conflict resolution in the area of special education. Leigh's advocacy experience began when her son with autism entered the service delivery system. He did not fit into standard programs, and there were challenges getting his Individualized Family Service Plan (IFSP) personalized. Leigh persuaded the agency to individualize his program. Because her son was non-verbal, the least restrictive school environment was a classroom for severely disabled students. The communication device provided? A board with 4 pictures. After finding him a functional mode of communication and persuading school staff to use it, Leigh negotiated for him to be moved from the most restrictive environment to full-time inclusion with his peers.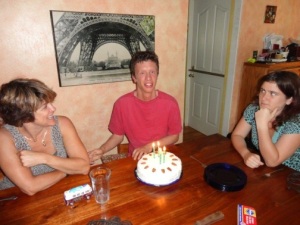 And the result? Today, he attends college full time.
Leigh was able to persuade agencies that "individualized" simply meant adapting the teaching process to facilitate his learning. She realized that if this was happening to her son, how could other parents figure out how to help their children when they did not know the law or understand the rules, or lacked the time and energy to push back?
Galvanized, she organized parents to negotiate with Santa Clara County Office of Education to close an unsafe special day classroom. All the children in that classroom needed new placements, and she helped many parents in the group prepare for attending Individualized Education Program (IEP) meetings to negotiate new placements and services for their children.
Recognizing her proficiency and dedication, the Area Developmental Disabilities Board VII recruited her in 1994. She served as a board member for eight years, and another 4 years as Chair. During that time, she helped many people add goals to their IEP's, negotiate appropriate services with many school districts, and worked with individuals to promote self-advocacy. Her specialties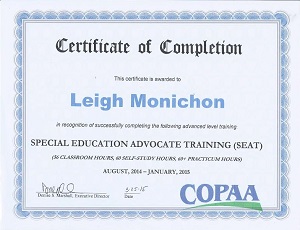 include task analysis (breaking a skill into smaller, more manageable steps in order to teach it), alternative and augmentative communication, negotiation, and scaffolding (teaching people with disabilities the process of problem-solving). She represents the interests of children with special needs at IEP meetings, providing parental and student support.
Leigh's educational background is in Business Administration, and she recently completed COPAA's intensive Special Education Advocacy Training (SEAT). From personal experience with Fair Hearing and Due Process, she understands the importance of negotiation.
SUSIE CHRISTENSEN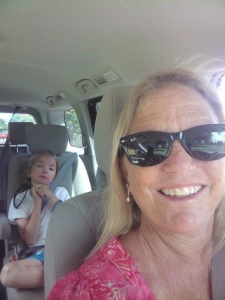 Susie started her career with a BA from the University of California, Santa Barbara and has worked in a wide variety of educational settings with all ages groups of children. She also has worked in special education in a high school setting where she was responsible for curriculum development, teaching study skills, individualized academic support in both the general classroom and in the special day class settings, ensuring IEP adherence, attending IEP meetings, and keeping and reporting data regarding student's educational details.
Susie has four children, the youngest of whom has autism. Susie's experience within the special educational realm gave her an in-depth understanding of how the complex system of laws, policies, and entitlements works, and how difficult it is to navigate.
She started a very successful special educational law parent group when she realized that many families needed help understanding and attaining the appropriate service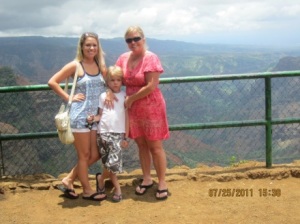 s for their student. Susie was also a member of her SELPA's community advisory committee that helps direct the local school districts special education administration and program implementation. She was on a special committee for 18 months to develop a SELPA wide autism program, which involved lengthy and detailed interviews of a wide variety of autism service providers and agencies.
Susie was then appointed by her county supervisor to serve on Area Board VII. She held the position for 2 1/2 years: the last year and a half as Chair. Area Boards are state-mandated—through the Lanterman Act, along with Regional Centers—advocacy agencies that provide advocacy to people with developmental disabilities.
Susie personally experienced due process which furthered her knowledge and experience of understanding the system and the emotional toll it can take on a family. Supporting families by helping them understand the intricacies of navigating a very complex system has become Susie's passion. She enjoys meeting new people and is very good at assessing each situation and really understanding what each student may need, as an individual, to ensure their success.